Gall Bladder stone Specialist in Pune, Dr. Abhijit Gotkhinde
Gallstones are solid particles that form from bile cholesterol and bilirubin in the gallbladder. The gallbladder is a small pear-shaped sac-like organ in the upper right part of the abdomen. It is located under the liver, just below the front rib cage on the right side.
What Causes Gallstones?
The Gallstone form when the amount of cholesterol or bilirubin in the bile is high.
Other substances in the bile may promote the formation of Gallstone.
Pigment stones form most often in people with liver disease or blood disease, who have high levels of bilirubin.
Poor muscle tone may keep the gallbladder from emptying completely. The presence of residual bile may promote the formation of gallstone.
Risk factors for the formation of cholesterol gallstones include the following:
Female gender,
Being overweight,
Rapid weight loss on a "crash" or starvation diet, or
Taking certain medications such as birth control pills or cholesterol lowering drugs.
How the Gallstones presents?
Most people with gallstones have no symptoms. In fact, they are usually unaware that they have gallstones unless symptoms occur. These are called "silent gallstones".
Symptoms usually occur as complications develop. The most common symptom is pain in the right upper part of the abdomen. Because the pain comes in episodes, it is often referred to as an "attack." (Gallstone attack)
Attacks may occur every few days, weeks, or months; they may even be separated by years.
The pain usually starts within 30 minutes after a fatty or greasy meal. The pain is usually severe, dull, and constant, and can last from one to five hours. It may radiate to the right shoulder or back.
It occurs frequently at night and may awaken the person from sleep.
The pain may make the person want to move around to seek relief, but many patients prefer to lay still and wait for the attack to subside.
What investigations are usually advised?
After evaluation of the patient, usually Abdominal sonography along with some blood investigations are suggested. Sonography will confirm diagnosis. If required your doctor may suggest some advanced investigations. After all investigations further plan is decided.
What is cholecystectomy?
A cholecystectomy is a surgical procedure to remove your gallbladder. The gallbladder is a pear-shaped organ that sits just below your liver on the upper right side of your abdomen. Your gallbladder collects and stores bile. Bile is a digestive fluid produced in your liver.
Risks
A cholecystectomy carries a small risk of complications including Bile leak, bleeding, infection, injury to nearby structures, such as the bile duct, liver, and small intestine, risk of general anesthesia, and pneumonia. Yore risk of complications depends on your overall health and the reason for your cholecystectomy.
Why its done
A cholecystectomy is most commonly performed to treat gallstones. And the complications they cause, your doctor may recommend a cholecystectomy if
Gallstones in the gall bladder
Gallstones in the bile duct
Gall bladder inflammation
Large gall bladder polyps
Complications due to gall Bladder stones like pancreatitis.
If untreated gallstones, what will happen?
They may produce symptoms like Pain, abdominal fullness, nausea, sometimes vomiting. Sometimes completely no symptoms. They have the potential to cause complications like pancreatitis, cholangitis, obstructive jaundice which are extremely life-threatening.
Is surgery the only solution?
Yes. To avoid potentiate complications, it's only a permanent cure.
What are the advantage of the laparoscopy over open approch for cholecystectomy?
Laparoscopy is the gold standard in cholecystectomy surgery. 
The most important advantages are
Very less pain. so minimal stay and early return to work is possible.
Magnified vision almost 14 to 20 times which helps to decrease complications.
Only 3 to 4 stitches.
Cosmetic
Lap chole – is it painful?
Nowadays, due to advances in surgical approach, technique, and equipment ( laparoscopy), and anesthetic medications, it's almost pain-free. Before surgery only one venous access is taken(it's like giving one injection) then medicine is passed through it only. After that pt will not understand anything will sleep and when wake up surgery was over. Practically speaking it doesn't remember anything about surgery. Immediate post-surgery there will be very minimal pain which can be managed with painkiller medicine.
About Dr. Abhijit Gotkhinde – Gallstone Specialist in Hadapsar, Pune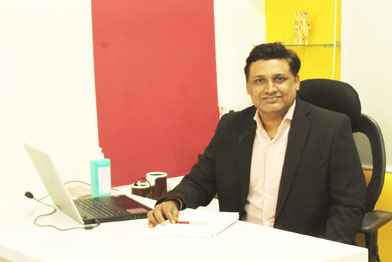 Dr. Abhijit B. Gotkhinde
Consultant Laparoscopic & Laser Surgeon
MBBS, DNB (GEN SURGERY), FMAS,
FIAGES, Fellow in Adv lap.
Dr. Abhijit B. Gotkhinde is one of the Qualified basic & advanced Laparoscopic Surgeons and the best Laser Surgeon in Hadapsar, Pune. He believes in delivering the most authentic and top-class services in Piles, fissures, Fistula Treatments also Hernia Treatments like Epigastric Hernia, Umbilical hernias, Epigastric hernia, Inguinal hernia, Femoral Hernia. He is the best Appendix doctor in Hadapsar, Pine
He has extensive experience in GI & Colorectal surgeries. He has a special interest in Laparoscopic surgery (cholecystectomy, Appendectomy, Hernia, Hysterectomy & Hiatal surgery) and minimal access to proctology surgery. (Piles, fissure & fistula).
There are various types of Hernia occurred in people. These hernias types include hiatus, incisional, and umbilical hernias. Symptoms are present in about 66% of people with Groin Hernias. So many treatments can be done for various Hernia Treatment within Laparoscopic Surgery Treatment. After trying various methods without complete information and knowledge many people fail to achieve the desired Laparoscopic Surgery or Laser Surgery for Hernia and Piles Treatment.
Watch Video
I met Dr. Gotkhinde for laparo chole surgery for gall stone. I want to treat it with medicine only. But with his knowledge of subject , crystal clear thinking and confidence I decided my mind and operated with him. In operation room I remember only one injection and when I woke up, surgery was over. Very little pain after surgery. Got discharge in 2 days.Thanks doctor.
After my difficult c section, I developed a hernia, I was really scared. My gyne sends me to Dr. Abhijit. It was a great decision to go with him. He done laparoscopy. My experience of surgery was exactly the same as what he told me before. He is a perfectionist surgeon.
Dr. Abhijit Gotkhinde sir operated my father for piles using a laser technique. Initially, we were quite anxious but after discussing with him about the procedure we felt confident. Surgery was done in less than 30 min & it was absolutely pain-free. He recovered in a single day. Within 1 week he is ready to work. Now we are thinking we would have done the procedure prior only. I must say, Dr. Gotkhinde is the best laser surgeon for piles.