Hernia Specialist in Hadapsar
What is HERNIA?
It's nothing but the abnormal exit of tissue or organ ( such as intestine, omentum, etc) through the wall of the cavity in which it normally resides. A hernia occurs when the inside layers of the abdominal wall weaken and then bulge or tear. This, in turn, can cause a loop of intestine or abdominal tissue to slip into the sac, causing severe pain and other potentially serious health problems.
Hernias by themselves may or may not produce symptoms as they are asymptomatic and can cause slight to severe pain.
What are the Types of Hernia?
There are numerous arrangements to name and type the hernia. To streamline for persistent we name hernia according to the area where it shows up.
1. GROIN HERNIA
A. Inguinal Hernias
Men are more prone to inguinal hernias than women because of basic differences in anatomy & The area where hernias occur most often has a very different function in men than in women.
Inguinal hernias are located in the lower abdomen i.e. groin, they appear as a bulge usually after coughing or straining. Sometimes it goes towards the scrotum, It usually occurs when fatty tissue or part of the bowel, bulge out through a part of the lower abdominal wall known as the inguinal canal.
A direct inguinal hernia occurs due to weakness in the floor of the inguinal canal, commonly seen in chronic conditions that increase intra abdominal pressure like chronic cough, chronic constipation.
Indirect inguinal hernia may occur at birth or later in life. Indirect hernias are more common in males. They occur when the inguinal canal fails to close before birth. The hernia may appear in a male's scrotum or in the fold of skin at the opening of a female's vagina.
B. Femoral hernia:
It is commonly seen in women. They occur due to a weakness in the lower groin region usually as a result of pregnancy and child. These hernias are more prone to complications and hence should be repaired once they are diagnosed.
2. Naval hernia (Umbilical / Para umbilical Hernia)
It happens when part of the digestive tract projects through the umbilical opening in the abs. These hernias may happen in newborn children at or soon after birth and may resolve by three or four years old. Notwithstanding, the zone of shortcoming can continue all through life and can happen in men, ladies, and youngsters whenever. In grown-ups, umbilical hernias won't resolve and may continuously compound after some time. They are in some cases brought about by stomach pressure or because of overweight, unreasonable hacking, or pregnancy.
3. Post surgery hernia (Incisional hernia)
It happens from the scar left from a past careful activity in the stomach divider. The patient may see torment or lump at recently worked locales. It is generally found in a persistent condition that expands Intraabdominal pressure and large patient. It might likewise be seen with now and again deferred the mending of wounds because of any explanation. Much the same as an inguinal hernia, it might confound and needs a crisis medical procedure.
4. Upper abdomen hernia (Epigastic hernia):
It occurs above the belly button.
5. Spigelian hernia:
It happens through the Spigelian sash. (its the aponeurotic layer between the rectus muscle and semilunar line)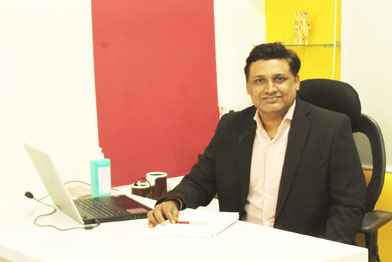 Dr. Abhijit B. Gotkhinde
Consultant Laparoscopic & Laser Surgeon
MBBS, DNB (GEN SURGERY), FMAS,
FIAGES, Fellow in Adv lap.
Dr. Abhijit B. Gotkhinde is one of the Qualified basic & advanced Laparoscopic Surgeons and the best Laser Surgeon in Hadapsar, Pune. He believes in delivering the most authentic and top-class services in Piles, fissures, Fistula Treatments also Hernia Treatments like Epigastric Hernia, Umbilical hernias, Epigastric hernia, Inguinal hernia, Femoral Hernia. He is the best Appendix doctor in Hadapsar, Pine
He has extensive experience in GI & Colorectal surgeries. He has a special interest in Laparoscopic surgery (cholecystectomy, Appendectomy, Hernia, Hysterectomy & Hiatal surgery) and minimal access to proctology surgery. (Piles, fissure & fistula).
There are various types of Hernia occurred in people. These hernias types include hiatus, incisional, and umbilical hernias. Symptoms are present in about 66% of people with Groin Hernias. So many treatments can be done for various Hernia Treatment within Laparoscopic Surgery Treatment. After trying various methods without complete information and knowledge many people fail to achieve the desired Laparoscopic Surgery or Laser Surgery for Hernia and Piles Treatment.
I met Dr. Gotkhinde for laparo chole surgery for gall stone. I want to treat it with medicine only. But with his knowledge of subject , crystal clear thinking and confidence I decided my mind and operated with him. In operation room I remember only one injection and when I woke up, surgery was over. Very little pain after surgery. Got discharge in 2 days.Thanks doctor.
After my difficult c section, I developed a hernia, I was really scared. My gyne sends me to Dr. Abhijit. It was a great decision to go with him. He done laparoscopy. My experience of surgery was exactly the same as what he told me before. He is a perfectionist surgeon.
Dr. Abhijit Gotkhinde sir operated my father for piles using a laser technique. Initially, we were quite anxious but after discussing with him about the procedure we felt confident. Surgery was done in less than 30 min & it was absolutely pain-free. He recovered in a single day. Within 1 week he is ready to work. Now we are thinking we would have done the procedure prior only. I must say, Dr. Gotkhinde is the best laser surgeon for piles.